Our Leadership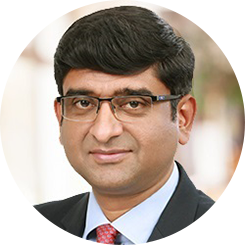 V Ramkumar
Senior Partner, Global Markets
Ram has over 27 years of experience in assisting global Financial Services clients in their business & technology strategy formulation as well as in their execution. He has been responsible for successfully driving large-scale programs that entailed business, process, organizational as well as digital & technology transformations.
He has assisted leading financial institutions in evaluating solution and service providers and has directly lead over 25+ large digital and technology transformations around the world. He has a deep appreciation of leading solution suppliers and service providers and also chairs the iconic IBS Sales League Table evaluation panel.
Ram is a regular speaker at leading global industry events and is a recognized panelist in banking technology user conferences. He is a thought leader and writes regularly on a wide range of Financial Technology topics. Ram completed his Masters at Birla Institute of Technology & Science, India, and has participated in a variety of executive education programs at INSEAD and Harvard Business School.