Our Leadership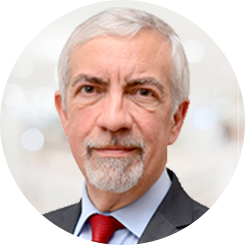 Robin Amlot
Managing Editor, IBS Intelligence
Robin leads IBSi's editorial business where he plays an important role in the iconic monthly IBSi FinTech Journal publication and drives the firm's coverage strategy on global Financial Technology news, analysis and insights. He also leads the firm's initiatives around events, alliances, webinars, roundtables, podcasts, and a lot more.
Robin comes with more than 30 years of experience as a financial and business journalist and has worked across all media forms, including print, online, broadcast, radio, and TV, as a thought-leader, presenter, producer and guest. This experience is global with a significant portion of it across European and Middle East markets. He has deep experience in a variety of editorial roles, most recently with International Accounting Bulletin, Banker Middle East and Islamic Business & Finance. Some of Robin's key achievements include being the Managing Editor of a UK personal finance website, authoring a national newspaper column on the online finance sector for a number of years, creating award-winning TV programs about business and finance for Sky News, and being the Financial Editor of Independent Radio News in the UK.
He is also an experienced host of conferences, seminars and round-tables and has created successful events in several different countries in a variety of formats. Robin also writes and contributes to a number of books and pamphlets, including a guide to world financial markets, a study of corporate pensions, four books on various aspects of Islamic finance, guides to investment and financial regulation, and several macro/microeconomics studies.
He has a BA in International Politics from the University of Lancaster and is also qualified as a Financial Adviser, holding the Certificate in Financial Planning.