Our Leadership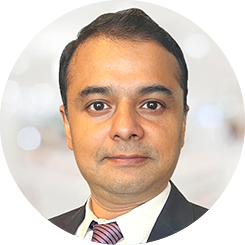 Nikhil Gokhale
Director – Research and Digital properties, Global Markets
Nikhil leads IBSi's team of research analysts, focused on providing real-time, data-driven insights on Financial Technology to clients. He spends his time helping senior executives at banks, consulting firms and system integrators with their research needs around the core and emerging technology solutions.
Nikhil comes with two decades of experience in business research for Financial Services, advising large financial institutions on strategy, technology, and performance issues. In his previous role at Deloitte, Nikhil led the research team responsible for developing thought leadership for the C-suite audience at banks, insurance carriers and asset managers. He is a thought influencer, having authored several reports covering emerging technologies such as Artificial Intelligence, Cybersecurity and RegTech, and has been a presenter at multiple industry forums.
Nikhil is a certified trainer for research skills and has conducted several programs for developing structuring and storyboarding skills. He holds a post-graduate MBA from Sydenham Institute of Management Studies and an electronics engineering degree from Mumbai University.