Bank Simpanan Nasional (BSN) offers conventional as well as Islamic banking products. The bank offers deposits, debit  credit cards, loans, alternative banking channels and other banking services. It also provides financial planning, asset wealth management and financing solutions including micro finance products. BSN serves more than 14 million customer accounts and operates 392 branches and 4,700 agents (EBB) in Malaysia and is headquartered in Kuala Lumpur, Malaysia. BSN was officially established in 1974 with its roots dating back to the late 19th century, when the first savings bank service opened in Perak and Selangor.
BML Istisharat SAL is a recognised global financial software vendor, providing solutions to the financial community over the course of more than four decades. Its fl agship product for banks is its Integrated Computerized Banking System (ICBS), available for both conventional and Islamic banks, and is deployable on-premise as well as on cloud. Its key clients include Bank of Jordan, Commercial Bank of Kuwait, APS Bank (Malta), IBL Bank (Lb), Credit Bank (LB), Blom Bank (France, UK, UAE, Romania, Qatar), Eskan Bank (Bahrain), Invest Bank (UAE) and ODB (Oman). In addition, BML Istisharat also offers solutions for insurance providers. BML Istisharat was founded in 1972 and is headquartered in Beirut, Lebanon. In 2012, BSN initiated the process to replace its disparate legacy systems with a fully integrated, customer-centric solution. BSN was looking to move away from decentralised product-centric to customer centric banking, and build umbrella architecture for better flexibility, quicker processing and seamless integration.
BML Istisharat was appointed through an RFP process as it offered the most suitable system for BSN's requirements. The deal was enabled by HeiTech Padu, BML's distributor in Malaysia and Indonesia. The implementation was done over three phases and was aimed at replacing a number of the bank's legacy systems, including the ICBA solution from Infopro. The scope of the implementation included replacement of six systems – Customer Information System (CIS), Deposit System (Conventional and Islamic), Payment and Remittance System, Branch Delivery System (BDS), Draw System and Credit Management System (Conventional and Islamic) – and integration of a new Core Banking system with other operational systems in BSN. This implementation helps BSN support a wide range of products in compliance with international standards and the local regulations.
The bank's initial business requirements definition and scope of work was finalised by December 2012, and the execution plan was triggered in February 2013. The project was divided into three phases. In Phase 1, BML Istisharat carried out replacement of the Customer Information System (CIS) by helping consolidate CIFs from the bank's multiple legacy systems into the ICBS database. This phase was concluded and the system went live in July 2013. In Phase 2, BSN replaced the enterprise credit solution with Conventional and Islamic Deposits and Loans modules of the ICBS Lending Solution. In Phase 3, BSN finally migrated its core and channels systems to ICBS' full core modules, including deposits and payments, and a full range of integrated digital delivery channels: banking agents, internet banking, SMS banking and self-service terminals (ATM & CDM).
Despite being a complex, multi-year implementation and BML's first implementation in the region, with multiple participants, the implementation was concluded successfully. The implementation involved a BML Istisharat team, with 11 to 15 members, consisting of a project director, an onsite team with one dedicated project manager, three SMEs during the requirement definition phase, two to four members of the BML Istisharat operation team during the implementation phase and an offsite team of fi ve to seven members led by a development manager.
The BSN project team, with a total varying between 30 to 60, consisted of resources for management, PMOs, SMEs, operations and tasks dependent on outsourced parties' resources: documentation, testing and change management. In addition, there was a team of seven to 15 members from HeiTech Padu Berhad, which was involved as system integrator and provider of platform such as IBM servers, Oracle products and networking. Juris Technologies Sdn Bhd, a local supplier, was engaged for its loan origination system, and conveyancing and litigation solution and had 5 to 15 resources working on this implementation.
IBM was the primary supplier of the hardware infrastructure required for this implementation. More than 70 interfaces were developed as part of this implementation to enable delivery channels (web services), direct interfaces with internal existing applications (including cards management, treasury, payroll, FRS, corporate consolidation GL, AML and so on), and interfaces with external channels (such as taxation authorities, funds managers, cooperatives and paying subsidising parties and so on).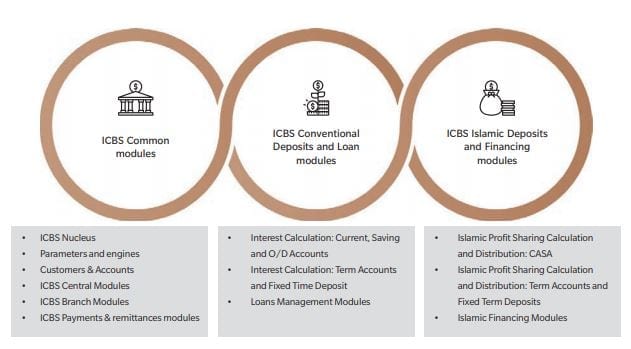 There was a moderate level of customisation, mostly focused on meeting local requirements including those of regulators and the Central Bank (Bank Negara Malaysia), payment networks, local credit risk regulators (CCRIS and so on), and paying subsidising parties' specificities; and integration with existing internal applications and external systems. The implementation was country-wide in Malaysia but had to be configured as per different states and their different weekend days. The implementation covered both conventional and Islamic branches of the bank. There were some hurdles during the implementation but they were swiftly handled by the BML Istisharat team, to support the go-live schedule.
One of the key challenges was migration and consolidation of data from multiple CIF sources, data cleansing and reconciliation.  During the implementation period, new business requirements were faced to meet the market needs and bank growth. There were also some new solutions that were changed or added, which had to be integrated as well. The change in regulations related to taxes (introduction and subsequent removal of GST), risk reporting, FRS implementation and other reporting was also incorporated. The overall volume of accounts and transactions increased over the implementation period. In addition, the bank moved from decentralised systems to ICBS, which is a fully online real-time integrated system. Furthermore, BSN is adopting processes and product features offered by ICBS to fulfi l business needs.
During the migration, the bank was also required to create temporary interfaces to the legacy core system, to ensure a smooth transition. However, all these challenges were resolved by coordinating with the bank management and HeiTech Padu team, ensuring availability of knowledgeable resources at different levels, and adopting standard methodologies and synergy between the various teams (SMEs, technical, operation, PMOs and so on). The implementation resulted in business growth and efficiency. The loan portfolio volume increased since production with the new catalogue products restructuring. The metrics of deposits are yet to be measured, as it was implemented in September 2018. The overall processing time decreased compared with the legacy system prior to the September 2018 go-live, despite the increase in volume of accounts exceeding the expected 10% annually at RFP stage. BSN expects a marked improvement in efficiency as well, driven by a reduction in the number of manual interventions.
The integrated system allows a quick time to market for new products and services, and ensures data integrity and accurate results. The implementation had helped BSN offer new deposits and financing products for both conventional and Islamic offerings; and enables automation of number of services. It also added channels such as e-Banking, EBB branchless banking and e-payments; additional features on the existing and or replaced channels such as ATM & CDM, credit cards; and most of all APIs and services on the top of IBM ESB allowing smooth integration of future channels.
The implementation enables efficiency, performance and accuracy while handling large volume (14 million accounts, 392 branches, 70+ integrations) and a wide range of conventional and Islamic products. It paves the way for BML Istisharat in a new region. This achievement is a showcase of BML Istisharat's implementation prowess. The implementation also highlights BML Istisharat as one of the pioneers in using new technology for Core Banking, successfully running Core Banking on a combination of Oracle and IBM LinuxOne
KEY FACTS
Bank: Bank Simpanan Nasional
Headquarters: Kuala Lumpur, Malaysia
Supplier: BML Istisharat
Project: Core Banking Replacement
Success metrics: Reduction in processing time; loan portfolio volume increase; quick time-to-market